Where do you park your car at the end of the day? Do you have safe garage at home? Most of us nowadays have a personal garage as it is not just useful for parking personal vehicles but storing other essential things which cannot be kept in the house. And that is why a garage door should always be sturdy in order to protect these essentials. But at the same time, it should be convenient to open and close even when it is pouring outside or you are traveling with children. You must realize how difficult it will be to leave your child in the car and get down to just open the garage or how inconvenient it might be when you have get down in the heavy showers to open the door of your garage. That is why a garage door opener is a must for every household. We, at Complete Overhead Door, Inc., can be the right choice for you. We are an established and experienced company which offers you smart and well-built garage doors and garage door openers. We also help you with its installation and repair services. So, if you are from areas like Dallas, Fort Worth, Flower Mound, McKinney, Rowlett, or Rockwall, TX, then you can opt for us.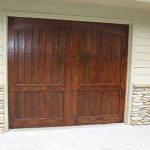 Here, we have put together a few tips that will help you choose a garage door opener. Take a look.
You should make sure that the garage door openers are made of good quality materials which last for a long time. This will ensure these will be durable in nature.
You cannot spend all your savings on these garage door openers. You must check it with your budget and choose affordable ones. This money can be saved and used for other household expenses.
So, if you are interested in our products, contact us now.