Edge of Dock Levelers in Richardson, Plano, Dallas, Fort Worth, McKinney, TX, and Surrounding Areas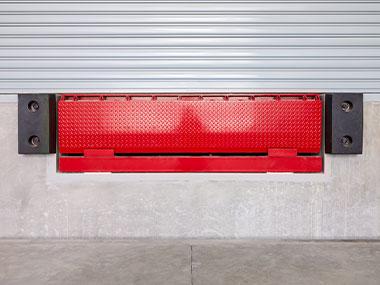 Edge of dock levelers are the choice of many Dallas-Fort Worth warehouse and distribution centers because they are an easy add-on and inexpensive. If you constantly work with light loads and don't have the room to install a loading dock pit, then the edge of dock levelers is the solution for you. You can even install an edge of dock leveler where an existing pit leveler is already located.
Here are some of the parameters for the edge of dock levelers:
Limited space
Light to medium loads
Average to heavy traffic
Let's look a little deeper at these. Edge of dock levelers work on limited space because they truly are on the edge of the dock. While they will need some "grip" on the top of the dock, this is minimal. The grip area they need can be added after the construction of the dock or during the planning phase.
The range of edge of dock levelers is ± 5". This is the reason why they are only feasible on docks that carry light to medium loads. Arriving loads that are too heavy could need more than 5 inches below the dock. The same is true for any type of loading going onto a trailer. However, this only about the truckload distance and not the weight. Edge of dock levelers do have a heavy capacity. These dock levelers are made of low alloy steel and some models can withstand loads up to 40,000 pounds.
When referring to average to heavy traffic, edge of dock levelers have proven themselves time and time again. In fact, they are the number one choice of many locations and are the most widely used of all dock levelers across the country.
Benefits of Edge of Dock Levelers
Edge of dock levelers are the preferred method of dock leveling in many different places. This is especially true when it comes to captive fleets or locations that get the same deliveries often and know what to expect. Like we said, edge of dock levers are the most popular of all dock levelers in the nation. Here are some of the reasons why:
Quick installation
Economical
Easy to add to existing structures
Widths in 66″, 72″, 78″ and 84″
Available with bumper blocks
Seamless crossover from dock to trailer
Less trip hazard
If this wasn't enough, edge of dock levelers are available in both manual and hydraulic operation models. The hydraulic operational models require a bit more installation set-up but are available with different features, including touch-button operation.