Wood Composite Garage Doors in Dallas, Fort Worth, McKinney, Plano, and Richardson
Beautiful Garage Doors That Make a Statement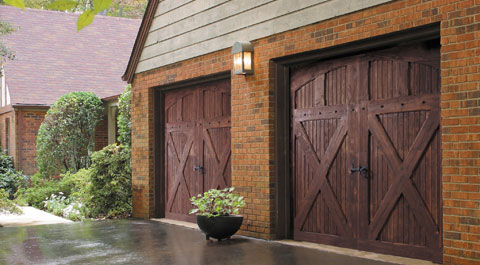 Do you know what the biggest doors on your property are? If you said your garage doors, you would be correct. And most often these garage doors are facing the road and provide an opportunity to make a statement with your Dallas, Fort Worth, McKinney, Plano, Richardson, or surrounding area home. Some of the nicest garage doors that you'll find for your home are wood composite garage doors, and the experienced team from Complete Overhead Door, Inc. can show you a number of different composite garage doors and wood composite garage doors that would look great for your home.
Wood Composite Garage Doors
Wood is a natural and beautiful choice for your garage doors. It has a warmth to it that other materials just can't match, and it provides a level of class and elegance to your home that makes people take notice. But it isn't just that the garage door is a wood composite garage door, you can choose the finish color of the wood, either lighter or darker, to complement your home. Or you can paint it versus staining it to match your home's colors. And then you can add distinctive hardware to the door for a great finishing touch that makes your wood composite garage doors a statement piece. Contact Complete Overhead Door, Inc. to find out all of the options available for your garage doors.
Amarr Heritage – Carriage House
Amarr Classica
Amarr Heritage – Carriage House
Composite Garage Doors
Composite garage doors are another great option for your home to make it stand out in your neighborhood. Composite garage doors provide a number of benefits that make them a great option for your home. Composite garage doors can be insulated to bring the R-value of the doors up to as high as 13+, which definitely helps if you have a climate-controlled garage. Composite garage doors also are typically low maintenance, only needing to be sprayed off to keep them clean and looking beautiful.
Having the right garage door as part of your home can not only provide beauty but also the functionality. Both wood composite garage doors and regular composite garage doors provide distinctive options for transforming your home from blah and standard to eye-opening and distinctive. From Dallas, Fort Worth, McKinney, Plano, Richardson, and the surrounding areas, Complete Overhead Door, Inc. is ready to help you choose the best garage doors for your home. They will be a statement for years to come in your neighborhood.