Garage Door Tune-Up in Richardson, Plano, Fort Worth, McKinney, Dallas, TX, and Surrounding Areas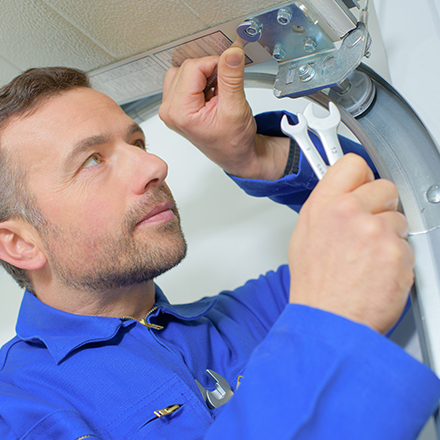 A garage door tune-up is always recommended as part of homeownership and keeping your garage door in proper working function. The garage door is being called "the new front door of America." When polled, 89% of US homeowners say their garage is their main entrance to their homes. So what happens when your garage door doesn't open due to faulty components or bent tracks? How will you get the sports or lawn care equipment out? Or even worse, how will you close it at night or when you are not home. Sure, you might be able to open it manually, but not everyone has the strength to do that or wants to over a long period of time.
Garage Door Tune-Up Steps
A garage door tune-up is an excellent way for Dallas-Fort Worth homeowners to keep their garage door in proper working order and get any issues taken care of right away. Let's say the door isn't opening easily for one reason or another. Now your motor has to work extra hard, and you're risking having to replace it. Or, your cables are overworking and could snap, leading the garage door to fall suddenly.
A garage door tune-up is a right step in not only conveniently using your garage but also saving money and ensuring safe operation.
A garage door tune-up includes:
An initial inspection of the cables, tracks, chains, and sensors. Technicians are trained to notice anything unusual such as cracks, fraying, bends, rust, build-up, and anything out of the ordinary or dangerous.
Some areas will need immediate attention, including any areas that might have been exposed to water damage. Not only does the water exposure need to be addressed, but garage door parts that are rusting or have been otherwise compromised might need sanding or replacement.
Now the technician will service the parts that require yearly maintenance, such as lubrication, adjustment, or cleanings. Some adjustments may include leveling tracks, adjusting the tension on the springs, tightening loose bolts, or anything that can be out of whack due to daily use. This may also include any gaps when closed.
Finally, the technician will open and close the garage door to ensure safe function, no unusual noises, no hesitating, and complete seals all around the garage door when closed.
Common Issues Found During A Garage Door Tune-Up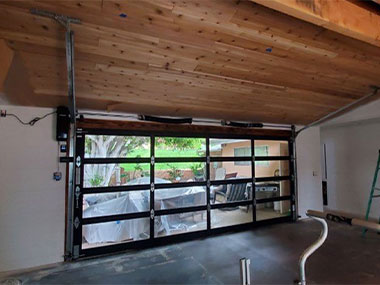 Misaligned or bent tracks
Strange noises
Excessive debris in tracks
Uneven or chipped rollers
Jerking or shuddering during operation
Broken springs
Sensor Alignment
Weatherstripping missing, cracked, or broken
Erratic perimeter sealing