Dock Bumpers in Dallas, Fort Worth, Richardson, McKinney, & Plano, TX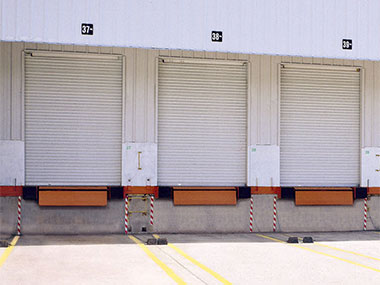 Dock bumpers, also called loading dock bumpers, work to protect both parties during loading and unloading. They protect the vehicles making the deliveries by not backing into the concrete loading dock, and they protect your building from constant crashing and damage. You'll need the loading dock bumpers capable of taking on heavy loads and frequent use. The investment you make in your dock bumpers is also an investment in your building.
Loading Dock Bumpers
What happens when your loading dock bumpers fail? Do you shut down that specific loading dock bay? Do you let delivery vehicles continue to cause more damage? Do you use extra employees to guide trucks? A failed loading dock bumper will have an economic effect on your business so let's make sure we get the right one for you.
Here are some options for loading dock bumpers: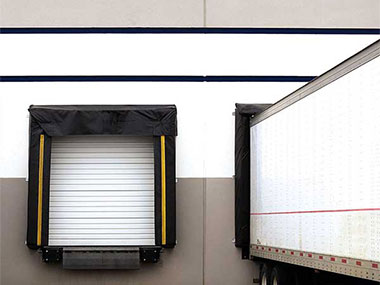 Economic, Lightweight Loading Dock Bumpers

These can be easily secured to protect against infrequent use from delivery trucks, trailers, and other vehicles. Many customers find these good for buildings with light use.

Heavy-Duty Loading Dock Bumpers

Heavy-duty loading dock bumpers are favored by businesses looking for bumpers that stand up to heavy and long-term use. Can take frequent use from heavy loads without compromising integrity.
Molded Dock Bumpers

These molded dock bumpers are usually made in a specific shape such as a "T" or an "L" to fit particular dock configurations.
Steel-Faced Bumpers

These specialty bumpers provide additional protection for the bumper and the loading dock. Usually found at locations that experience heavy and frequent loading and unloading.

Rubber Loading Dock Bumpers

Rubber bumpers are made from recycled truck tires. Rubber loading dock bumpers have extra resistance against chipping and abrasion. A great option in heavy use, harsh environments, and favorable to damage control on delivery vehicles. Also available in custom lengths and with additional steel band protection.

Extruded Loading Dock Bumpers

These are bumpers with many different uses. A cost-effective route for loading docks, extruded dock bumpers can also protect internal walls from forklifts, machines, adjustable equipment, walls, shelving, and more. They can also be lined along walls and loading docks for broader coverage. Additional options in extruded loading dock bumpers

Corner applications for tight loading and unloading applications.
D-shape for additional protection by absorbing impact and reducing force during backup.
You may need help finding your loading dock and depot in need of more than one type of dock bumper, even for inside protection. Let us know all the areas you are looking to protect, and we'll help you find the right loading dock bumpers.