Dock Traffic Lights in McKinney, Plano, Dallas, Fort Worth, Richardson, TX, and Surrounding Areas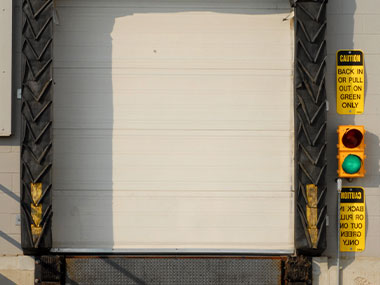 Dock traffic lights are one of the most requested safety features for loading docks and delivery bays. Many safety features work to protect your building, loading and unloading equipment, delivery vehicles, and more. But what about your most important asset – your employees. So many people and equipment are involved at loading docks that everyone may not be commuting properly or aware of what one another is doing. Add in different company procedures, temporary workers, loud noises, heavy traffic, and congestion. Now you have the conditions for accidents.
At Complete Overhead Door, we can help you get the right dock traffic lights and safety signals that will protect your property, assets, and most of all, your people. Call us to help you find the right dock traffic lights or add to your order of other items from Complete Overhead Door, such as rolling steel doors or dock seals.
Dock Traffic Lights and Safety Signs in Dallas-Fort Worth
Dock Traffic Lights
Communicate with delivery vehicles which docks are available and ready for use. A great way to increase productivity and make your location a favorite with delivery companies and drivers. Dock lights can not only signal the availability of a specific bay to proceed to but also help with the delivery process. Help drivers with long trucks by letting them know immediately if there is a concern or obstruction. Optional features in dock lights include:
• Stop/go lights similar to traffic lights
• Motion-activated
• 24-hour operation
• Remote and operator-controlled
• Obstruction sensor
Dock traffic lights often come in two options:
LED – uses approximately 10% of the energy of incandescent lights, low to no maintenance, no filament to break (high vibration resistant), extended multi-year warranty
Incandescent – uses standard and easy-to-replace automotive bulbs, shorter warranty
Dock Bay Lights
Your location may take deliveries 24 hours, you may have to contend with seasonal light fluctuations, or maybe your dock is dark just because of its design. Whatever the reason, having the right dock bay lights can cut down on accidents, improper docking, and damage to deliveries. Other lights help with unloading dark trailers. Save time by giving the light needed for proper forklift operation and identifying the right products to unload. Options can include built-in fans, adjustable arms, and more.
Dock Safety Signs
Often a requirement by different jurisdictions, dock safety signs communicate special safety messages as well as show your commitment to a safe work environment. They are also a way to let delivery drivers know of your company's procedures such as shutting off their engines, where to check in, receiving hours, what specific lights mean, and other ways of communicating standard practices.