High Speed Doors in Fort Worth, McKinney, Plano, Dallas, Richardson, TX, and Surrounding Areas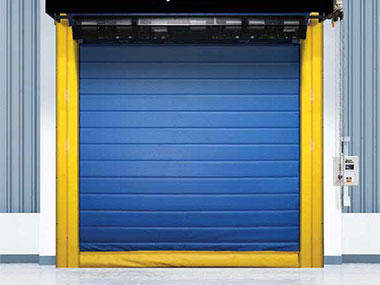 When we meet with clients looking for high-speed overhead doors, we need to learn about their business and application. There are several different reasons why our clients may be looking for high-speed doors in the Dallas-Fort Worth area. Once we know what you are looking for, we can start the estimate for your high-speed door by providing high-quality options from Cornell Cookson and Wayne Dalton.
Here are some of the reasons our past clients have decided to purchase high-speed doors from Complete Overhead Door:
Thermal Qualities
Some companies are looking to cut down on the energy costs of constantly working against external environmental extremes. The constant fluxes and stress on their HVAC system are running up energy costs, spoiling inventory, and creating a hostile environment.
Heavy Traffic
The need to respond to deliveries quickly is paramount. Perhaps these companies are not explicitly looking for thermal insulation but want to be responsive to loading and unloading as promptly as possible.
Demanding Occupants
For parking garages and high-rise condominiums, residents and occupants may command high speed for entry and exit of their parking privileges. Regardless of an advertised benefit or added later, high-speed overhead doors for Dallas-Fort Worth tall buildings significantly cut down on complaints and increase tenant residence.
Whatever need you have for high-speed doors, we will make sure that the high-speed garage door solutions we bring to you fit what you are looking for in your building.
High Speed Overhead Door Features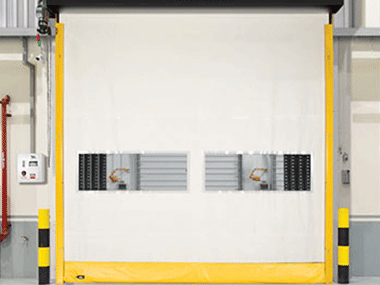 Once we go through the different options in high speed rolling doors, you'll be surprised at what is available. If you've already done your research and know you want a door from Cornell Cookson or Wayne Dalton, we'll come out as soon as possible to start the estimate process. If you are beginning your search, then we can match what you are looking for and give you some fantastic additional benefits and features.
These features are not available on all high speed overhead doors, but you can pick the essential features for your application.
High speeds up to 80" per second
Up to 30' widths
High-speed wind resistance
Extreme insulation ability
Grill and solid options
Operable through key fob, security, card, and other options
Back-up power options
Multiple color designs
And more. We know that clients looking for high speed doors in the Dallas-Fort Worth area are looking for high speed overhead doors with high performance and high features. Let Complete Overhead Doors match you with whatever you need.