Sectional Doors in Plano, Richardson, Fort Worth, McKinney, Dallas, TX, and Surrounding Areas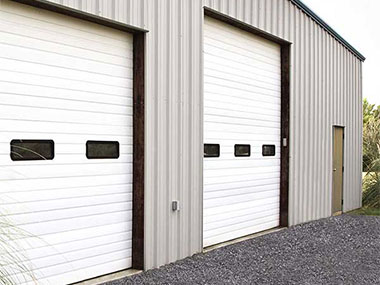 Sectional doors are the choice of many businesses in Dallas-Fort Worth looking for high security, thermal insulation, practicality, style, and other options. The sectional doors we carry are from Wayne Dalton. Wayne Dalton commercial sectional doors are known throughout the industry for their beauty and performance. Thermospan® Doors from Wayne Dalton are excellent thermally efficient options at outstanding values. No matter the type of sectional door you are looking for, Complete Overhead Door will find the right one for what you need.
We can help your business find the right sectional doors for your style, security, energy, and any other needs you have. Options can include:
16 gauge, 20 gauge, and 24 gauge thickness
Aluminum or steel construction
Heavy-duty industrial applications
Top protection in harsh elements
Thermal protection against hot and cold environments
Economical solutions
We know one business may need a way to work around an interior creative opening while another needs to protect valuable inventory. And another may need to protect the warehouse floor from the elements. No matter what type of sectional door you need, Complete Overhead Door will help you get it.
Sectional Door Locations
Restaurants
Car dealerships
Warehouses
Fire stations
Vehicle repair garages
Police stations
Municipal garages
Ambulance stations
Commercial vehicle storage
Hospitals
Free-standing retail
Benefits of Sectional Doors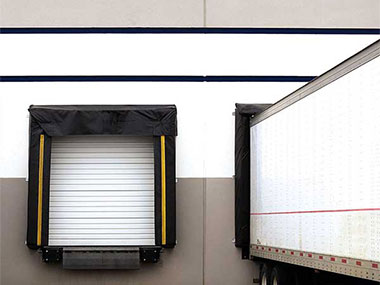 Sectional doors can be perfect for unusual openings. Using tracks, sectional doors run along the connection points and work with different spaces, including arcs and other unique shapes.
Sectional doors are great for saving space. Overhead doors are an excellent option for when there isn't much overhead space available. Think about low roofs, carports, and the like. Having a space-saving garage door option is not only going to fit the available space and provide additional headroom but will also provide the desired security.
Sectional doors can include windows. Some businesses, such as car dealerships, may keep their sectional doors closed during business hours but want them to function as windows. Other companies may want natural lights from windows.
Sectional doors provide excellent thermal properties. If your sectional doors open to a large area such as a factory, processing center, customer location, or other areas, you might be interested in thermal regulation. Often sectional doors have sealing property at the bottom as well as the sides to seal out external temperature extremes. Quality insulation will help gain even more insulation properties.
Sectional doors provide excellent security. There is not a penetration point with sectional doors as there might be with other entries. The tracks and components mean sectional doors can not be compromised at the edges.