Dock Seals and Shelters in Richardson, McKinney, Plano, Dallas, Fort Worth, TX, and Surrounding Areas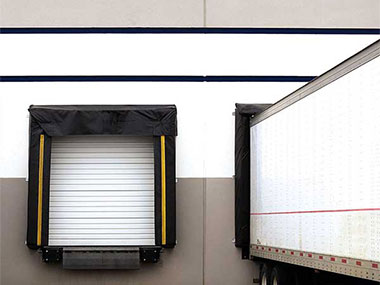 Dock seals and shelters provide a defense against outside elements by providing a "seal" around delivering vehicles. While you might think immediately of rain, snow, and other weather elements, dock seals and shelter offer more than just protection against elements. Dock seals and dock shelters are also good for your dock's integrity and the safety of the delivery vehicles that come to your location.
Dock seals and shelters from Complete Overhead Door are designed to maximize efficiency by getting the exact size, features, and style you need. Whether you're looking for an economical dock seal or a fully customized dock shelter, Complete Overhead Door will make sure you get the right one for you.
The benefits of dock seals and dock shelters for maximum environmental control including:
Reduction in outside elements including dust, pollen, odors, and air pollution
Prohibits rats, bugs, and other pests
Protects employees and deliveries from rain, wind, and snow
Lower energy costs
Reduce temperature fluctuations
Reduce constant wear and running of HVAC systems
Favorable work environment
Protection of unloading equipment
Reduction in slip and fall accidents
Dock Seals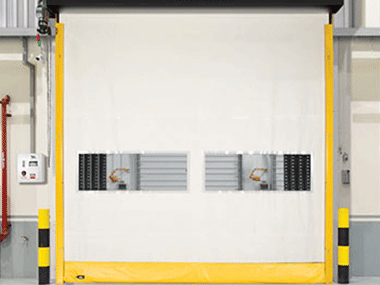 Dock seals are the solution to loading bays built into the sides of buildings. When trucks back up, they come to a stop against the dock seal and press into the foam pads that make up the dock seal. This creates a compression that then seals the truck trailer to the building with little to no space gap leading to the outside. Now employees can open the trail and load and unload without contaminating the docking area.
Contact us to learn more about the different options in dock seals for your location. We have several different makes and models for all budgets and needs. If you have an unusual opening, size, or configuration, custom-made dock seals are available.
Dock Shelters
Dock seal "seal" the back of the trailer to the building. Dock shelters go a step further by providing full access to the back of the trailer. A trailer backs into the shelter area housing, almost like a bit of garage area before the dock doors.
The entrance to the dock shelter is a series of curtains hung from the dock shelter frame. The action of the trailer backing up causes the curtains to create a seal along the trailer. The trailer then backs up against other cushions for a snug and protective fit. Now all the inventory, employees, unloading equipment, and more are protected on all sides, including against any bottom or side drafts.