Garage Door Tune-Up in Rowlett, TX
Most Americans use their garage door daily and depend on it for safety, security, and ease. Don't let repairs and maintenance wait; our experts are ready to ensure your door works its best.
A yearly garage door tune-up in Rowlett, TX, can improve fluidity, ensure all moving parts are thoroughly lubricated, and catch problems in your door system early. Reach out to our team at Complete Overhead Door, Inc. for all your garage door maintenance needs.
Inspecting your garage door lets us check all the parts for efficient use. If we see a rusty door spring, bent door tracks, or a broken weather seal, our team can help fix it. Catching these issues early prevents them from worsening into something more expensive.
From a complete replacement to a minor repair, we've got you covered. Our team is highly qualified and capable of taking on any task, large or small.
Garage Door Broken Spring Repair and Replacement in Rowlett
We offer the ultimate garage door service in the area and diligently work to ensure your garage door broken spring repair or replacement happens effortlessly. We work with you to make the process as easy and affordable as possible.
For every door tune-up, we check all aspects of your door for rust, debris, and damage and eliminate all issues. When we find a problem, we'll explain the issue and how we can stop it.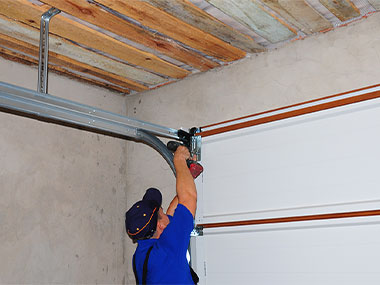 Minor repairs go a long way to improving the overall quality of your door. Repairs encourage a long lifespan without breakdowns or replacements. If we believe the door requires replacement, we'll walk you through your options and help you decide how to proceed.
After the garage door repair, we'll open and close the door using your garage door opener to ensure it works properly. We don't leave the job until the results satisfy you and our experts.
Garage Door Service Tune-Up in Rowlett, Texas
Set on the banks of Lake Ray Hubbard, Rowlett, TX, offers a range of outdoor water activities for everyone to enjoy. The city has grown tremendously to become the thriving community it is today. It's known for its peaceful quality of life and attracts a range of families and individuals with its enjoyable atmosphere.
Our team is the preferred garage door service company in the area and is ready to help you however we can. Contact us at Complete Overhead Door for all your garage door tune-up needs in Rowlett, TX.