Garage Door Tune-Up in Garland, TX
Keep your garage door working correctly with professional garage door tune-up in Garland, TX. Our experts at Complete Overhead Door, Inc. can repair, inspect, and assess damage to your garage door. Yearly garage door maintenance ensures your door system works its best and helps maintain the door's lifespan.
Garage doors go through constant movement and use. Many people depend on them for safety and security, making door tune-ups critical for keeping your property safe. When your door breaks, your home becomes vulnerable.
A garage door has many moving parts that can easily break. When you call us, we'll thoroughly review yours, checking for rust, damage, and debris affecting fluid use. Inspecting your garage door helps catch minor repairs before they grow too costly.
Our team at Complete Overhead Door, Inc. offers comprehensive garage door service to keep your door in ideal condition. From minor repairs and garage door tune-up to complete replacements, we've got you covered.
Don't let the repairs pile up and worsen; we can fix issues as they happen and maintain your door's good condition.
Garage Door Repair and Broken Spring Replacement in Garland, TX
We provide garage door broken spring repair and replacement for long-lasting results. Don't wait to get your door fixed. We'll work with you to make the process as easy as possible and remove the headache.
We begin with a complete inspection of every working piece and check the door spring, door tracks, and weather seal for any discrepancies. If we find any issues, we'll talk you through your options so that you can make informed decisions.
Before we leave, we'll open and close the door several times with your garage door opener to check for anything we may have missed. We don't consider the job complete until you are completely satisfied and your door is fully functional.
Maintenance and garage door repair prevent the added expenses of your door breaking down or needing replacement. We'll ensure every part is adequately lubricated and works efficiently, so you don't have to worry.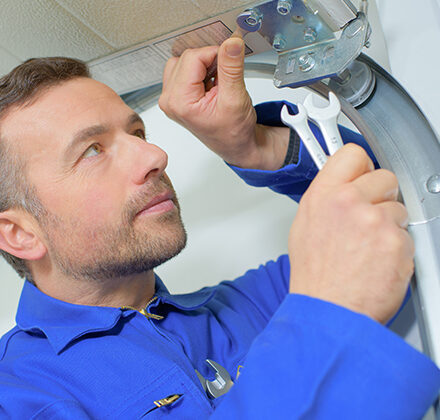 Garage Door Service and Garage Door Tune-Up in Garland, Texas
Many say that friendships made in Garland last a lifetime. The city offers excellent job opportunities and amenities without losing its charm. There are several coffee shops and parks for entertainment, and downtown Dallas is a short ride away for a fun night out.
Garage door maintenance is an essential aspect of home ownership. Keep yours running well with our help. Contact our experts at Complete Overhead Door, Inc. for your garage tune-up in Garland, TX.