Garage Door Repair in Plano, TX
Your garage door is responsible for securing the valuable items you store in your garage, including vehicles. Although garage doors are easy to use, repairing them can be a challenging endeavor. Complete Overhead Door Inc. removes the complexities of garage door repair by providing high-quality and professional services in Plano, TX.
Garage Door Service and Repair in Plano, TX
It may be time to schedule a garage door repair if you notice any of the following:
Your overhead door is making a loud, squeaking noise.
You can't open or close your garage door.
The garage door opener stops working.
There is noticeable physical damage from a storm or some other event.
When it comes to repairs, scheduling a garage door service as soon as possible is critical. You rely on your garage door to protect your home or building while still providing easy access. Repairing it sooner rather than later prevents future problems and expenses.
From commercial to residential garage doors, Complete Overhead Door's experts are ready to take on anything. When you get your garage door repaired by us, you can rest easy knowing that we use state-of-the-art techniques to extend the life of your door system.
We use a thorough repair process to ensure that your garage door continues to function effectively. First, our technicians thoroughly inspect every component of your system to look for any discrepancies. Then, we lubricate the springs and rollers while securing any loose bolts and screws to improve the efficiency of your garage door.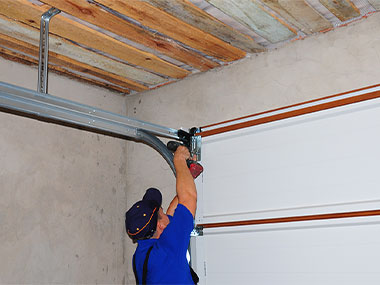 Should your professional garage door repair require replacement parts, you can trust that our certified team has them handy. We'll show you which parts need replacing and restore your garage door quickly.
Complete Overhead Door garage doors come from an array of brands to fit any home or building. Our experts will work with you to find the style and material that best fits your garage.
Overhead Garage Door Services in Plano, TX
Every team member at Complete Overhead Door loves working for families in Plano, TX. From endless eatery options to the unmatched scenery of north Texas, it's no wonder why so many families and businesses find themselves residing here. The city is bustling with start-up companies and unique business ventures that make it an enjoyable place to establish a career.
Procrastinating is the last thing you want to do when it comes to scheduling a garage door repair. Call Complete Overhead Door at (972) 412-6069 when you need garage door service in Plano, TX.